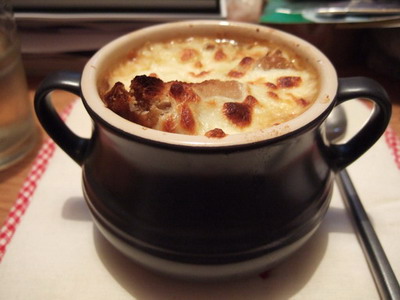 Ingredients

1kg onions, cut into slices
2 pints beef stock
1 cup white wine
1 tsp sugar
olive oil
mozarella or gruyere cheese
crusty bread

Prep

In a large pot on high heat, add oil, onions and sugar and sautee for 5 minutes (until the edges of the onions start to blacken a bit). Reduce to minimum heat and let simmer for 30 minutes, stirring occasionally.

After that time, you'll be left with nicely browned onions and a good coating of flavour on the bottom of the pan. Deglaze gently with the white wine and add the beef stock. Let simmer for 1 hour.

Toast some crusty bread to make large croutons. Distribute soup into over-proof bowls. Top with croutons and cheese and broil until the cheese is golden.

Serve immediately.