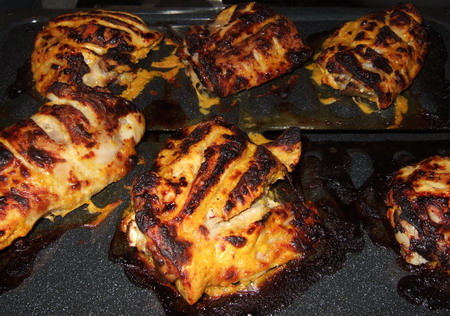 I've been looking for a good tandoori chicken recipe for ages, and finally Madhur Jaffrey has provided one, which I modified a bit to personal taste. It's not difficult to make, just a bit time consuming.

Ingredients:

1kg chicken pieces (thighs, legs), skinned
150g plain yoghurt
salt
2 lemons (or limes)
2 green chillies, seedless
1 large knob of ginger, peeled.
2 tbsp tandoori spice mix (see below)

Preparation:

The chicken needs to be marinated twice. For the first marinade:

1. pat chicken dry and cut slits in the chicken pieces right to the bone. This will help the marinade soak as deep into the meat as possible.
2. season with salt on both sides and add the juice of the two lemons (or limes).
3. rub salt/juice in the chicken pieces thoroughly. Let stand for 20-30 minutes.

While that's marinating, prepare the second marinade:

1. in a food processor, combine a few tbsp of the yoghurt with the chillies, ginger and spice mix. Blitz until smooth.
2. combine with remainder of the yoghurt.
3. once the first marinating period is done, add lemon/lime juice to the mix
4. coat liberally the chicken portions with the yoghurt marinade and run well into the chicken. Cover and let stand in the fridge overnight if possible (but at least 6 hours!)

I'm assuming that you don't have a charcoal-fuelled clay tandoor, so we'll have to fake the cooking part. When the second marinade is done, place chicken portions on a grill pan and turn oven on to its highest setting. Put chicken on the highest rack in the oven and broil for 18-20 minutes until chicken is cooked (juices run clear when pricked with a fork) and is just starting to char. Note that the chicken isn't as red as you'll get in a restaurant. That's because they use food colouring.

Splash some fresh lime juice on the chicken before serving.

FYI, the tandoori spice mix contains the following:
1 tsp ground cumin
1 tsp ground coriander
1 tsp hot chilli powder
1 tsp garam masala
1/2 tsp tumeric
2 tbsp paprika

To make garam masala from scratch, add the following to a clean coffee grinder and blitz until smooth:

1 tsp black peppercorns
1 tsp cumin seeds
1 tsp whole cloves
1/3 of a whole nutmeg (you can break a whole nutmeg by placing it on a cloth and bashing it with a meat mallet or rolling pin)
a medium stick of cinnamon, 2-3 inches, broken up into 3-4 pieces

Store in a tightly lidded jar, away from heat and sunlight and use as needed.